What Do You Do When A Sales Compensation Plan Has A Huge Loophole?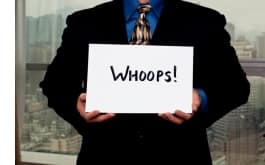 David sold a new account today. But, this isn't just any account. It gives new definition to a large account.
While the account win is great, a client of this magnitude was never considered when the sales compensation plan was written. As a result, David is about to get a huge payday that negatively affects the profitability of the win. To support the account, the company needs to add headcount and invest in technology development. Yet, those added costs were never addressed in the compensation plan. With David's compensation on this deal factored it, this becomes a low margin account, at best.
David already has dollar signs in his eyes as he calculated his commission check the moment the contract was signed. Will he buy a boat or a second home?
Given the executive team's financial concerns, you (Vice President of Sales) have been tasked with resolving this financial problem – if it can be resolved. David and the entire sales team are closely watching to see what the company will do.
Do you change the compensation plan just for David?
Do you develop a unique compensation plan just for this account?
Do you just pay the compensation as set forth in the plan?